Memory Medallion® easily attaches QR codes to the surface of tombstones and memorials providing lasting, multi-media remembrance.
Using a smartphone, simply read the barcode of a medallion to view the story, images and video associated with it.
Click here to see how it works!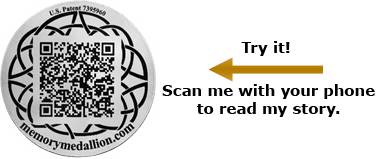 Memory Medallion Features:
Unlimited text for stories and links to other websites

Up to 999 images and 5 videos


Include a connection to your Family Tree web site!

One time purchase, no additional fees

Laser-etched stainless steel, impervious to weather
Click the circle to the right to view our promotional video.
We are the exclusive holder of patents for use of barcodes to provide personal remembrance or historic information. U.S. Patent 7254666/7395960. We are the SAFE choice.